World famous, right here in Rekohu!
The following profiles belong to people of known moriori heritage who have in some way or another made a significant contribution towards  the culture, history, traditions, renaissance or re-establishment of Moriori culture, mana, rights and position, either historically or recently or contemporarily.
Of course, there are many many people, throughout the millennia, and particularly those more prominent advocates for Moriori who have surfaced in the latest generation that will also grace this page. The criteria used for selection for this page is: prominent over a sustained period of time, and adequate information is available in the public domain.   Which is not to dismiss all those many other champions, nor their achievements.
Scribe
Hirawanu Tapu was also known as Maitarawai and Taputehara Maitara.
He was born about 1824 at Te Awapatiki on the east coast of Rekohu. His parents are unknown and he had a half-brother, Wi Tipene Matahuri.
He was living at Te Awapatiki when Te Ati Awa invaded the Chathams in November and December 1835. Thereafter he was enslaved by Ngati Tama and taken by them in turn to Waitahi, Ngatikitiki, and finally Kaingaroa, where he was a possession of chief Wiremu Kingi Meremere.
Hirawanu was betrothed to Rohana (also known as Tini Waihe), a Moriori slave who was amongst those taken to the Auckland Islands by Ngati Mutunga (1842 to 1856). Rohana's owner, Matioro, tried to prevent their union by abducting her and carrying her back to Waitangi, on Rekohu. But Hirawanu and Rohana were living together by 1861.
Hirawanu Tapu obtained his freedom when Chief Meremere died in 1860. He returned to his own people at Ouenga. There he became the protégé of and heir apparent to Torea Takerehe, who had been influential in persuading the Moriori not to fight the Maori invaders in 1835 and 1836.
Hirawanu was fluent in written and spoken Maori, and he understood Moriori and spoke a little English. At Ouenga his linguistic versatility and his ability to calculate rapidly led to his taking charge of bartering between visiting ships' crews (largely whalers) and local residents. He would make a line of standing baskets of potatoes, and whalers would then have to measure out a roll of cloth to the same length.
When the Moriori held their second great council at Te Awapatiki in 1862, to record their traditions and genealogies, and their objections to the Maori invasion of Rekohu, Tapu was chosen as scribe for that meeting and the series that followed. From this time, although Tapu was neither a hereditary chief nor, as yet, an elder, he was regarded by everybody on Chatham Island as leader or spokesman for the Moriori. Communications to and from successive governors and governments were directed through him. Visitors who wanted to discuss Moriori history and customs, such as Stephenson Percy Smith and Edward Tregear, began their inquiries with Hirawanu Tapu.
Because of his literacy, numeracy and general reliability, Resident Magistrate William Thomas appointed Tapu tidewaiter at Owenga in the mid 1860s. This required him to record customs transactions at the port and prevent smuggling. He achieved this position over the claims of European and Maori residents, and over the objections of Ngati Mutunga chief Apitia Punga.
In 1868, with Torea, Rohana and other Ouenga Moriori, Tapu moved onto land which Apitia Punga had reserved for them at Manukau, two miles south of Ouenga. The status of this largely bush-covered reserve of 2,000 acres, which bordered the sea, was confirmed by the Native Land Court in 1870.
At those court sittings Tapu was the leading witness for the Moriori claims. He was handicapped, however, by the fact that he had never before participated in judicial proceedings and he was ignorant of both procedure and the need for a planned strategy. He placed all his faith in the concept of British justice, which had been explained to him in glowing terms by a visiting ship's captain. In contrast, many of the Maori who gave evidence at Waitangi in 1870 had already done so previously in Taranaki court hearings. The consequence was that, although Maori and Moriori numbers on the Chathams were roughly equal in 1870 (about 100 of each), the Maori were awarded ownership of 146,289 acres of Rekohu or 97.3 per cent; the Moriori 4,100 acres or 2.7 per cent. The Moriori failed to gain any title on Rangihuate
or the outlying islands, which were part of their traditional food sources. The judge had chosen to base his decisions on Maori rather than Moriori customary law, and to recognise Te Ati Awa's right of ownership by conquest.
In 1868 Tapu had begun to help the young licensed native interpreter Alexander Shand (son of the first resident magistrate) to collect Moriori history, traditions, chants and vocabulary. Tapu's part in this collaborative procedure was to interview Moriori authorities such as Torea, Minarapa Tamahiwaka, Maikoua Mohewa, Kirapu Rangikei, Pumipi Te Rangaranga, Hori Nga Maia, Apimereke and Heremaia Tau, recording information in Maori and traditional chants in Moriori. He would then go over this material with Shand, who would raise queries about lacunae or meanings. Where Tapu was unable to answer such questions, he would return to his informants and interview them further. The material gathered was eventually published in the Journal of the Polynesian Society in the 1890s, and in 1911 as a book, The Moriori people of the Chatham Islands: their history and traditions. Tapu was also the sole informant for Resident Magistrate Samuel Deighton's Moriori vocabulary, which Deighton presented to the under secretary of native affairs in 1887. Despite Tapu's inability to speak Moriori fluently and his concentration on some informants to the exclusion of others, more than 90 per cent of the surviving information about Moriori language and culture passed through his hands.
Serious as he was about his work with Shand and Deighton, Tapu was not above teasing some of the would-be scholars who came to his door. In 1892 he solemnly assured Henry Forbes that a giant moa-like bird called the pouwa had once roamed Chatham Island, and that he had seen its bones protruding from Te Whanga Lagoon. And he is reputed to have told Abner Clough that the Moriori were the descendants of Portuguese sealers who had become stranded in the Chathams with their Maori concubines 300 years earlier. There is no evidence in Shand's writings or letters that Tapu believed either story.
Throughout the 1890s Alexander Shand's correspondence records that Tapu became progressively debilitated by tuberculosis and seasonal bouts of influenza. He died at Manukau in May 1900, aged about 76. In spite of arguments over boundaries with his Moriori neighbours in the last years of his life, he remained a leader and a celebrity until his death. The first governor to visit the Chathams, Lord Glasgow, made a special trip to Manukau to meet him in 1895. He continued to appear in the Native Land Court until only weeks before his death, giving evidence on Maori claims in addition to Moriori, because he had outlived and out-remembered Maori witnesses. By that time only 12 'full-blooded' Moriori survived: there was no Moriori of his stature waiting or equipped to assume Tapu's role. Moriori culture died with him in a far more real sense than it did with the death of Tommy Solomon 33 years later.
This biography, written by Michael King, was first published in the Dictionary of New Zealand Biography in 1990.
Farmer
According to family tradition, Tame Horomona Rehe, subsequently and better known as Tommy Solomon, was born at Waikaripi on Chatham Island on 7 May 1884. He was the only surviving child of Rangitapua Horomona Rehe and Ihimaera Te Teira, who were members of both the Ouenga and Otonga Moriori tribes.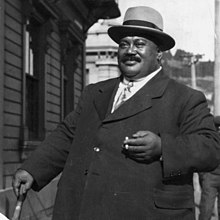 Tame grew up on the Moriori 'reserve' at Manukau on the south-east coast of Rekohu among about two dozen of his kinsfolk.
He received a primary education at Te One School, to which he rode on horseback from Waikaripi (where his parents camped during the birding season) and Manukau. At the beginning of 1897 he left school to help his father work the land at Manukau, and to look after his mother, who was now chronically ill. Tommy was energetic and strong: he was a powerful back in the Ouenga rugby team, and from his mid-teens joined the older men and women on birding expeditions. He was one of three survivors of a disastrous expedition, made against the advice of his elders, in August 1900, when two boats capsized and nine young men drowned at Tupuangi Beach, on their return from an unsuccessful foray to The Sisters.
Tommy's high spirits led him into trouble with the law during visits to the South Island with his father in 1901 and 1902. Because of his apparent irresponsibility, after his mother's death in 1903 his succession to her land was delayed, and his father, Rangitapua, was given lifetime ownership of her shares.
On 30 September 1903, at Waitangi, Chatham Island, Tommy married Ada Fowler, a Ngai Tahu woman from Arowhenua, near Temuka. They moved to leased land at Whareama, where Tommy served his apprenticeship as a sheep farmer. As the number of Moriori of unmixed descent declined from 32 in 1883 to 12 in 1900, the size of the Rehe holding at Manukau increased to 1,800 acres. By 1910 Rangitapua had cleared and developed the block as a highly successful sheep run and built a sizeable homestead. In 1915 both Rangitapua and Ada died. Tommy had by this time returned to the family farm at Manukau and taken over his father's house and stock, and was running up to 7,000 sheep and a small herd of cattle.
Tommy and Ada had had no children. Tommy remarried on 21 October 1916 at Temuka. His second wife, Whakarawa (Rene) Fowler, was Ada's niece. They had three sons and two daughters: Charles Te Teira, Thomas Tutanekai, Ngamare, Eric Rangitapua, and Flora who died in adolescence.
Throughout the 1920s Tommy Solomon's reputation grew throughout New Zealand – as one of the most skilled farmers on the Chathams, and after the death of his father's sister, Paranihia Heta, as the so-called last Moriori. He was a member of the Owenga School committee, the foundation Chatham Islands County Council (in 1925), the Wharekauri Maori Council, and the Chatham Island Jockey Club. He coached the Owenga football team, was a champion pistol shot, and bred successful racehorses. In 1924 Tahupotiki Wiremu Ratana asked him to call a meeting to establish the Ratana movement on Chatham Island, and he remained a Ratana advocate until his death. He travelled to Christchurch each year to organise farm business and purchase new equipment, and he cut a memorable figure in his dark suit and homburg hat. Visitors who came to Chatham Island to investigate Moriori culture were always directed to him, and others of Moriori descent looked to him as their leader.
In addition to his physical stature (in later life he weighed about 30 stone), his community commitments and his mana as a Moriori, Tommy Solomon was widely respected for his conciliatory nature, generosity and sense of humour. He died of pneumonia and heart failure at his home in Manukau on 19 March 1933.
While he remained proudly Moriori in identity, Tommy Solomon was culturally Maori. It was his descendants, and those of Riwai Te Ropiha, a contemporary of his father, who were responsible for maintaining a Moriori presence on the Chathams and – 50 years later – initiating a revival of Moriori culture.
This biography, written by Michael King, was first published in the Dictionary of New Zealand Biography in 1993.
Leader
Nunuku-whenua, the high ranking Moriori chief of the Hamata tribe, who established "Nunuku's Law," which forbade war, cannibalism or killing, in any form.
The law was strictly abided by, and peace was maintained across Rekohu until the islands were invaded by Ngāti Mutunga and the Ngāti Tama, in 1835. The invaders had guns and they massacred the peaceful Moriori.
At one point, Moriori gathered urgently for a council at a revered place known as Te Awapātiki. Although many young men argued in favour of armed resistance, the elders ruled that Nunuku's Law could not be violated, for any reason. The Moriori population, conquered and enslaved, fell from over 1600 in 1835 to less than 100 thirty years later.
Nunuku Whenua forbade murder and the eating of human flesh. He proclaimed to the combatants;
'From now and forever, never again let there be war as this day has seen!'
This covenant, known as Nunuku's Law, was accompanied by Nunuku's Curse;
'May your bowels rot the day you disobey'.
Ancestor
Moriori are the indigenous people of Rēkohu and Rangihaute who peopled the islands about 1,000 years ago.
Traditions tell us that the founding ancestor of Moriori, Rongomaiwhenua, came from eastern Polynesia and his younger brother Rongomaitere sailed on to Aotea (thought to be Aotearoa). Hence there was a period of voyaging between Aotearoa and Rēkohu which explains the hokopapa links between Moriori and mainland Māori tribes but the tuakana (elder line) lines stem directly from Rongomaiwhenua.
All Moriori today trace their ancestry back to Rongomaiwhenua.